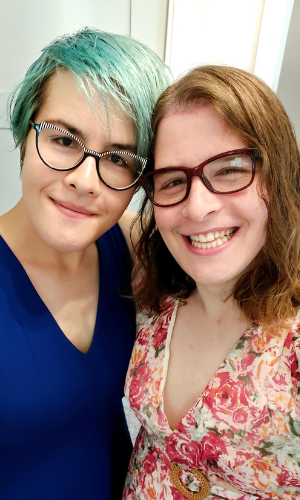 Meet Sam and Natalie! 
A transgender couple who are pursuing surrogacy to build their family. With Assisted Reproductive Technology (ART) and fertility services, lesbian, gay, bisexual, and transgender individuals and couples can fulfill their dreams of becoming parents.
1. Tell us about yourselves! 
We met in the summer of 2018 on one of those dating sites everyone says does not work. We clicked almost immediately and began messaging back and forth every day. Sam could tell that Natalie wanted to ask her out but was too shy. So, Sam beat her to the punch. Our first date was at a now-closed restaurant called Rams on July 4th, and we have been best friends ever since.
We have a relatively short but diverse variety of activities we like to do together. We recently picked up rock climbing as a fun couples activity, and amazingly we trust each other to hold the rope! We also like to cook complex meals together, which has taken over eating out. Natalie is an amazing cook, but sometimes she gets a little jelly because Sam can throw stuff together, and it works. We also spend a lot of evenings watching movies together, ranging from b-rated horror to the blockbuster hits, if Sam can be convinced.
2. Tell us about your fertility/surrogacy journey.
Surrogacy wasn't always something we had planned on. Our original idea was to do adoption, as Samantha is adopted and felt it would be cool to build our family the same way. Sadly, despite dedicating 2-3 years of our lives to the process, it just wasn't meant to be. Following a failed adoption in November 2021, we re-evaluated our situation and realized that thanks to Natalie's new career moves, surrogacy would be in the cards for us.
 We knew going into the process that if we were going to do surrogacy, we would need a donor for all three parts of the puzzle (eggs, sperm, gestational carrier) because we're both trans women and the results of Hormone Replacement Therapy (HRT) have left us infertile, along with just plain lacking the necessary anatomy.
 The biggest surprise that we've encountered with surrogacy is how much better we are treated than when we were doing adoption. With adoption, it felt like we were constantly being scrutinized and shamed for wanting a family. Our experience with surrogacy has been nothing short of amazing, we're treated like people instead of a burdensome number. The staff at Gift of Life Surrogacy agency and IVF Ohio Fertility Centers have all been amazing and helpful.
 3. Any helpful information/tips that would help the LGBTQ+ community when it comes to surrogacy? 
The cost of surrogacy is quite scary; it's a giant financial commitment. Luckily there are resources specifically for people in the LGBTQ+ community that can help make surrogacy within reach.
4. What are you both most excited about? 
We are super excited to get to walk through the entire process every step of the way with our carrier and be in the room during delivery. We're also super excited to eventually get to take our children to the rock-climbing gym! We're also generally excited about all the little things that being parents will allow us to experience, like being a couple of embarrassing moms.