Gift of Life
Surrogacy Agency
Our Process
Learn about our step-by-step process from consultation through embryo transfer.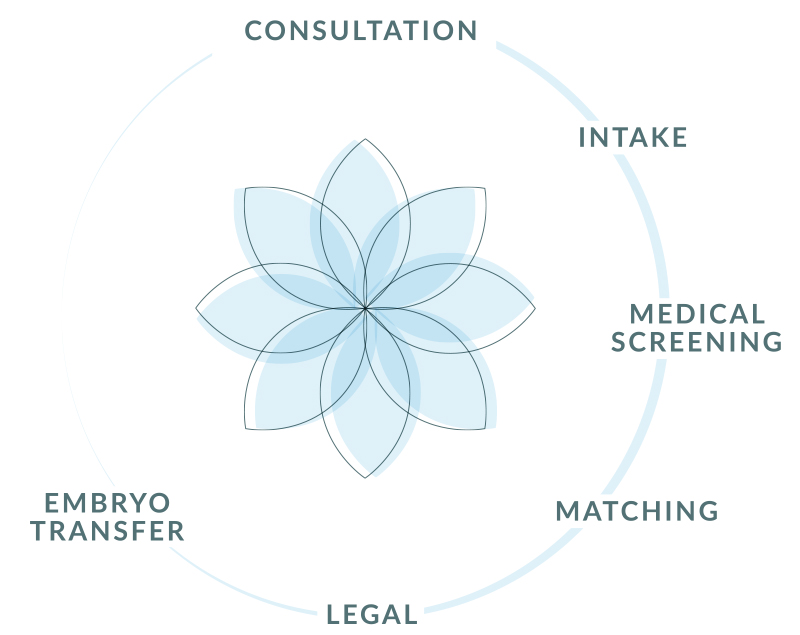 Consultation
Whether you are a surrogate or intended parent, you will begin with an in-depth consultation with our staff to ensure you thoroughly understand the surrogacy process.
Intake
After the initial consultation, the intake process will begin. At Gift of Life Surrogacy Agency, we want to have a thorough understanding of why you are choosing to become a surrogate, or if you are an intended parent, what has led you to surrogacy. We review basic information about you, your spouse (if applicable) and answer any questions you may have about the process.
For both surrogate and parent, we discuss your expectations and wish list for either a potential carrier or parent to get the matching process started. Our hope is to create a perfect match to pair the right surrogate with the right intended parent(s).
MEDICAL SCREENING
During the surrogate's medical screening, both the surrogate and her spouse (if applicable) will undergo testing that involves blood work, an ultrasound, psych evaluations, physicals, and anything else the physician feels necessary for the case. After the physician signs off, the Gift of Life Surrogacy Agency staff will discuss creating a schedule for medications and transfer with the surrogate.
Matching
Parents: We will present you with profiles of potential surrogates one at a time as they become available. We encourage you to take your time reviewing the profiles, and then let us know if you'd like to move forward with a meeting or interview. The first meeting will be in person or a video chat if location is an issue. Should both parent(s) and surrogate decide this is an ideal fit, the legal phase will begin.
Surrogates: We will notify you when any intended parents are interested in your profile, providing you with basic information about them for review. The initial meeting will take place either in person or via video call. Should you both decide this is an ideal fit, the legal process will begin.
Legal
Once a match is made, the carrier will work with Gift of Life Surrogacy Agency's staffed counsel while intended parents will work with their own legal representation to finalize all legal agreements. The legal process can take anywhere from 3 to 6 weeks as both parties need to approve the contracts, have them notarized, and file them with all attorneys involved.  A written statement must be sent to Gift of Life Surrogacy Agency indicating that all legal agreements have been finalized before we can move forward.
Embryo Transfer
The surrogate will finish her birth control series and move on to a heavier medication schedule. Embryo transfer takes place at a scheduled time according to the surrogate's menstrual and medication cycle. At Gift of Life Surrogacy Agency, we take our role as a support system for both intended parents and surrogates to heart. Our job is to make this process as seamless and stress-free as possible for all parties involved.
"As my husband and I are contemplating using a gestational carrier, Emily was our first stop to learn as much as possible about this journey. Emily is a wealth of information, and she has been a carrier several times. She is warm, honest and upfront about the process. As you are considering this option for your family, I would highly recommend connecting with Emily and working with her to better understand the legal aspect, timing and cost associated with using a carrier.  After you speak with Emily, I guarantee that you will feel more at ease and well informed to make a major life decision."
"Emily has been a true gem, guiding me through the process of surrogacy.  Being a surrogate herself, she understands both the perspective of the intended parent and the surrogate, which is helpful. Emily alerted me to questions I should be asking, often bringing up points that I had not considered. Additionally, she comforted me during the early stages of my journey. I would highly recommend Emily for surrogacy guidance as she truly understands this process in and out."
"Emily was the calm to my frenzied storm. She was so patient, encouraging, and knowledgeable. I never felt I was asking too many questions or overstepping. She is an amazing resource and person."